REFRIGERATED MEDICAL CABINET 1400 Lt DOUBLE TEMPERATURE
AVAILABLE MODELS: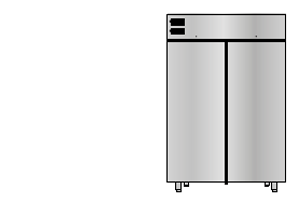 014 LEONARD COMB (1400 Lt) PP
(Positive temperature)
014 LEONARD COMB (1400 Lt) PN
(Positive and negative temperatures)
014 LEONARD COMB (1400 Lt) NN
(Negative temperature)
GENERAL FEATURES
- Technology, design and production "Made in Italy";
- Inside and outside in stainless steel, except bottom, ceiling and outside back in galvanised steel;
- Rounded internal corners;
- High-pressure injected CFCs free polyurethane insulation (density 40 Kg / m³);
- Insulation thickness: 60 mm;
- 2 self-closing doors with magnetic gasket;
- 2 electronic control panels with 5-inch glass capacitive TFT touch-screen graphic display, complete with 12 V battery and no. 2 USB ports;
- Lockable front panel;
- Hole for 2 probes (on the left side, frontal view);
- Entirely automatic condensation water evaporation;
- Evaporator with anti-corrosion cataphoresis treatment;
- Electric defrosting for version TN (normal temperature) and BT (low temperature) with gas R452A and R455A;
- Kit of no. 4 adjustable stainless steel feet (height: 110/180 mm)
DOM SYSTEM STANDARD SET-UP
- No. 8 plastic-coated grids of GN 2/1;
- No. 8 hooks kit;
- No. 2 led lights (1 light per door);
- Fan stop;
- Door heater for TN and BT version (normal and low temperature);
- Standard packaging: pallet + cardboard + plastic feet protectors.
AVAILABLE VERSIONS
-Stainless steel;
- Electronic control panel with 5-inch glass capacitive TFT touch-screen graphic display, complete with 12 V battery and USB port;
- Electronic digital control panel (EW974);
- Gas R452A (Code AM1);
- Gas R455A (Code AM2);
COMBINED MEDICAL CABINETS
PP Positive temperature -2°C / +8°C
NN Negative temperature -18°C / -22°
PN Positive and negative temperatures -2°C / +8°C -18°C / -22°